the lab // experiments in gamedev
We are Centrifuge and we make fun things on the web and mobile. Sometimes it's nice to take a break from big projects and work on something small - here's a list of our experiments.
Virome
Treat the viruses with the correct combination of drugs. Exposing a cell to all three drugs causes an overdose.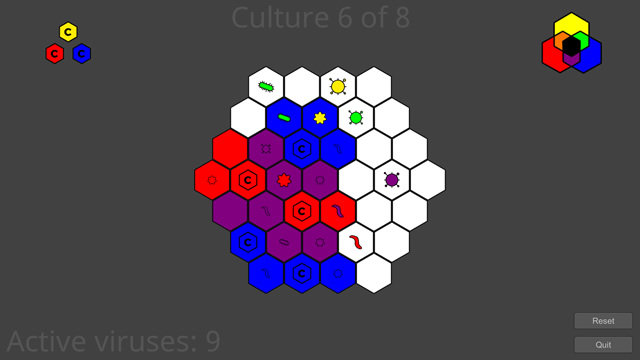 Available on Windows 8/10, Windows Phone, iOS, Android, Kindle Fire - visit viromegame.com for download links.
Originally called "Superbugs", this was our first attempt at using Unity. Made in 72 hours for Ludum Dare 38 in April 2017 (theme: "A Small World").
Find posts about Virome on the Centrifuge blog.
Our other games
If you enjoyed these, why not check out our "proper" games?
Interference - the drawing and describing game
We start with a description, then let a chain of players take turns to draw and describe – but each player can only see the previous step in the game. It won't take long for the original message to get lost in translation and turn into something completely different (and hilarious!).
Play for free at www.playinterference.com
Loose Vowels - cn y fnd th mssng lttrs
We'll show you a list of puzzles on a specific topic (from "100 Greatest Books" to "FIFA Ballon d'Or Winners" and all kinds of things in between). The catch is that we've taken the vowels out and moved the spaces around – all you have to do is work out where they should go! Could you guess that "THHT CHKRSG DTTHGL XY" is "The Hitchhiker's Guide To The Galaxy"?
Download the app on Windows, iOS or Android from www.loosevowels.net